Just sticking my head up from the WIP to say hi, and to let you know that
Alison Tyler's
fab sex guide,
Never Have the Same Sex Twice: A guide for couples
, is now shipping in the States, and is on its way to the UK! Here's the blurb: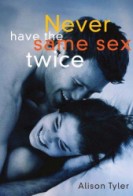 According to Alison Tyler, her monogamous relationship of more than ten years is "filled with extreme, kinky, varied, crazy, never-have-the-same-sex-twice sort of sex." The secret of not getting into a sexual rut lies in the power of the imagination and pure dedication. In this distinctive guide for couples, Tyler introduces each chapter by sharing her own personal sexual experience. Following that is a short erotic story that not only instructs readers in the how's and why's but helps them visualize what they can do to invigorate their sex lives. From having a weekly date night to using sex toys to experimenting with light BDSM to erotic foreplay, this book guides couples to sexual satisfaction over and over again.
Anyone who reads
Alison's fiction
or
her blog
will know how good she is at writing about the subject of sex. :) I've been looking forward to this book, and I just know it's going to be a well-thumbed keeper.
Amazon.com
and
Amazon UK